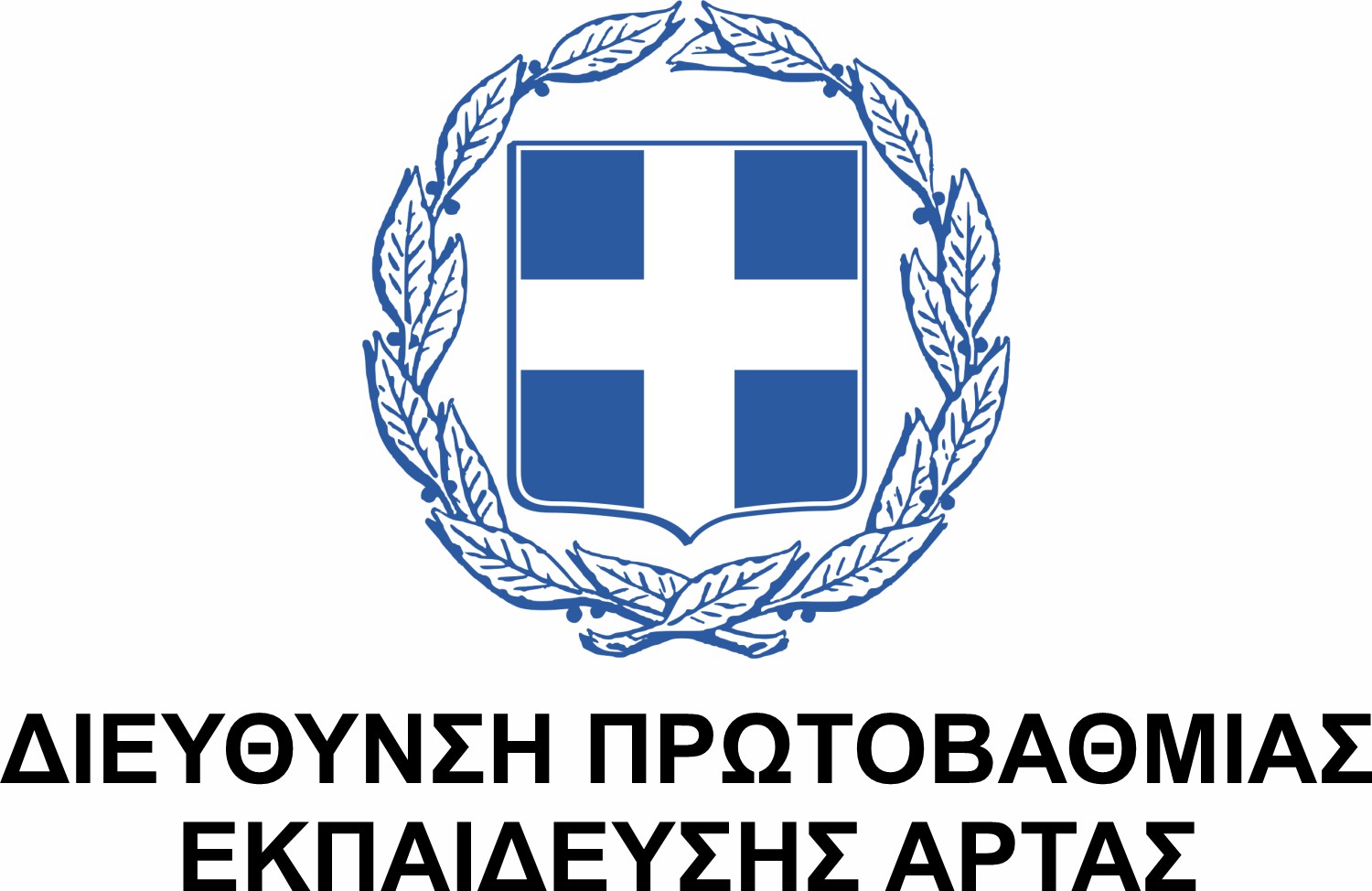 Directorate of Primary Education Arta
The Directorate of Primary Education in the Prefecture of Arta is an educational organization in charge with the planning and coordination of educational and training activities from pre-school to the primary education.DIPE follows the rules, policies and guidelines set by the Greek Ministry of Education for schools. Its aim is to provide Greek society with well-organized and appropriately staffedschools where students are given the chance to fully experience (via new educational programmes) and comprehend not only the pedagogical but also the social role of schools in their everyday lives.16 administrative employees work in DIPE Artas.There is one director and one head of education. We organize trainings, competitions, schientific symposiums, collaborations and set the basis on skills of the future.Our institution is responsible, except the Erasmus+ programs, alsofor EURODESK.Our strong belief is that we need to be one step ahead and start formingan e-learning background, beginning from the Directorate and the people who wish to work towards this direction toprovide extracurricular activities, to make modern methods, tools and systemic organizational models available so as to face the new individual and collective challenges that already arise in the new socio-economic and cultural context.
www.facebook.com/Διεύθυνση-Πρωτοβάθμιας-Εκπαίδευσης-Άρτας-100465262509529/
CEIPES –International Centre for the Promotion of Education and Development is a non-profit organisation founded in 2007 and based in Palermo, Italy. It leads a Network of more than 8 European and extra European associations focused on Education, Trainingand Social Development. CEIPES has expertise on Education, Transfer of innovation and Project management in different European programmes tackling the Education and the capacity building of different target groups, from young people to adults, from women to unemployed, migrants and disadvantaged groups. It also promotes lifelong learning, vocational training and entrepreneurship with the aim of enhancing opportunities for youth and adults to improve and acquire competences and therefore boost their employability and inclusion. CEIPES has several links with public and private local and international stakeholders that can contribute to the achievement of project results in terms of dissemination, exploitation and sustainability of them. CEIPES can count on experienced staff composed of professionals with different competences and fields such as psychology, communication, training, international cooperation, social and cultural mediation, social assistance, ICT, digital manufacturing and law.
jaqueline.rinaldi@ceipes.org
Osmaniye Provincial Directorate of National Education
Osmaniye Provincial Directorate of National Education is a governmental organisation in charge with the planning and coordination of all kind of educational and training activities from pre-school to the end of secondary school, vocational high schools, technical schools and adult education institutions&centres in its region. In our institution there are 1 director,4 deputy directors 9 department managers and20 school inspectors. Osmaniye Provincial Directorate of National Education has the responsibility of coordinating, monitoring, guiding all means of education at schools.Our institution alsoorganizesall types of in-service trainingon current educational topics, learning and teaching materials forteachers, supports all social and sportive school activities. At schools incollaboration with local authorities and NGOs at419 schools with 6.780 teachers and 133250 students in its region.Under our directorate there are 36 pre-schools,177 primary schools, 130 lower-secondary schools and 93 secondary/highschools.
Osmaniye İl Milli Eğitim Müdürlüğü
Adnan Menderes Mah. Valilik Binası
80010 Osmaniye/Türkiye
Siauliai Centre for technical creativity (Siauliai tech) is and Educational public organisation, established by the Municipality of City Siauliai. It is an institution in the City with a broad range of STEAM educational activities for kids: starting with a pre-school education and up to secondary school.
The mission of the Siauliai tech is to create innovative and multifunctional environment to sustainably develop future personalities – kids and young people.
The main aim of Siauliai tech to inspire the interest of kids and young people in STEAM education and STEAM professions. To achieve this goal, we apply the Play-based learning where kids and young people can practically experience what Science, Technologies, Engineering, Arts, Maths are. We work through hands-on learning approach and make kids during activities connect their experiences to real world practices, explore it and transform in order to open new possibilities.
Stoties 11, Šiauliai, Lithuania
Šiaulių techninės kūrybos centras
DEVELOPMENTAL CENTRE OF THESSALY
Founded in 2004 in Trikala, Greece, Anaptyxiako Kentro Thessalias AKETH-DCT (Developmental Centre of Thessaly) is a nonprofit organization, accredited by Greek National Organization for the Certification of Qualifications and Vocational Guidance, which operates as continuing vocational education & training (VET) center/provider.


The mission of the organization is aligned with the E.U. strategic framework about fighting the rising levels of unemployment –particularly among young people, by providing certified education & training opportunities, counseling & personal development in order to contribute in their life improving.


AKETH-DCT has a great experience in the field of education, in both E.U. Programmes and National Programmes, Especially in the implementation of EU, AKETH-DCT has built a great agenda in several topics such as: training and recognition policies, ICT development, adult education, schools partnerships, sustainable development, energy, environment etc.


Staff members of the EU dept of AKETH have high educational and academic profile and have been involved in many social and scientific analyses something that is highlighted in their CVs and scientific/research experience.
Anaptyxiako Kentro Thessalias
Fournonission 4, 42100 Trikala, GREECE
Iaşi County School Inspectorate
Our Mission Statement


Iaşi County School Inspectorate is a public institution that provides professional guidance, coordinates and assesses schools and training centres in order to ensure high-quality education services, continual improvement, the effectiveness of the national / local education system and its compatibility with the European systems.


Values and principles


While aiming to achieve the standards and needs of its beneficiaries, the values on which our institution is based are:
Professional competence
Continuous improvement of the services offered
Lifelong professional development
Responsibility
Integrity
Truth
Dignity and integrity
Communication
The principles that guide the institution's activity towards ensuring balance in the education system and successfully mediating the relationship with the decentralized bodies and the local community are: Providing multiple educational contexts (formal, non-formal, lifelong learning);


Organizational and informational flexibility within the context of a decentralized education system;
Acceptance and valorisation of cultural diversity;
Cooperation and social solidarity while building a strong partnership between families,
schools and communities;
Education for culture and values.
Iaşi County School Inspectorate
26, Nicolae Bălcescu street, ZIP 700117
https://www.facebook.com/InspectoratulScolarJudeteanIas